NORMAGRUP TECH CENTER, commitment with innovation and technology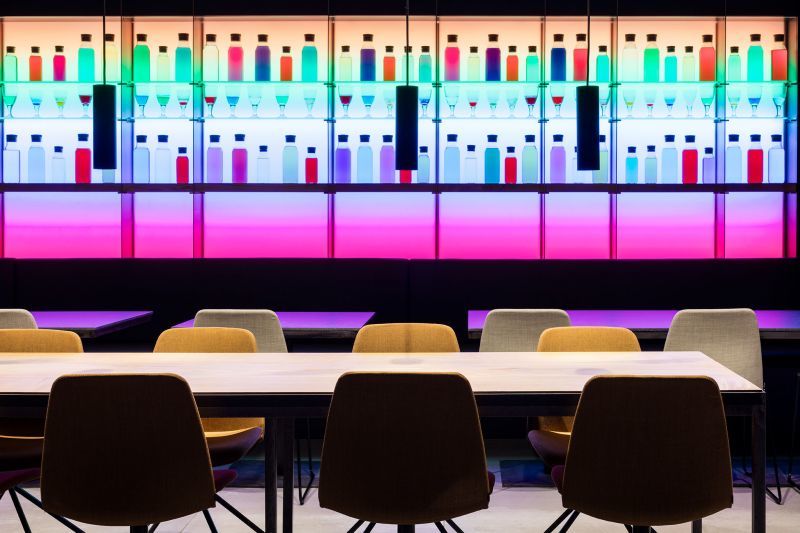 A 6,000 square-meter building, where more than half of it has been used for laboratories, R & D & I department and Applied Lighting theory.
Normagrup is a business group with 100% Asturian capital and more than 40 years of experience that designs, manufactures and markets its own solutions that allow it to be a leader in the sectors in which it is present.
The Asturian group has a workforce of 170 employees and subsidiaries in the United Kingdom, the Netherlands and Mexico. Its brands are recognized both nationally (42% market share) and internationally (present in more than 50 countries):
NormaLux · Emergency lighting.
NormaLit · Technical and architectural lighting.
Normadet · Fire detection systems.
NorClinic · Hospital technical systems.
Normagrup has three more buildings within the Asturias Technology Park where it manufactures all the products in its catalogue.
In the DNA of the group is the desire to develop innovative products with a high technological component, quality, efficiency, with an attractive and functional design. Only those manufacturers who can control all design and manufacturing processes will be able to offer products in accordance with the aforementioned features. For this reason, there is control at Normagrup, from the design to the packaging of the final product. It has its own laboratory with the latest technology, plastic and alluminum injection plants, fully automated assembly lines…
This new building has been born with the idea of becoming a European benchmark in the study and development of new technologies in the field of lighting that can help to improve people's health. Additionally, it faithfully recreates different spaces or rooms in which the harmful effects of poor lighting versus good lighting are analyzed. This space also serves as a center for training in lighting theory and awareness on the effects of lighting.
Within the 6,000 m² of the new NTC building, 1,000 sq-m have been thought to show how to light a room properly or and poorly depending on its use. To do this, the ground floor of the building has an exhibition area with different venues that recreate everyday environments such as a supermarket, a restaurant, a kitchen, an office space, a school classroom, a clothing store, a hospital room, a luxury store, a car dealership and a museum. It aims to be a very immersive experience. This is achieved by taking care of every single detail: decoration, atrezzo, furniture, ambient sound,… with this careful base, the visitor can check the effects of good or bad lighting depending on the environment and the objective pursued:
Use of different equipment and techniques to create a specific environment.
• Play with RGB technology and Tunable white to create spectacular effects.
• Use of adaptive light to light and highlight according to their colours, aiming to have the best colour rendering. Play with the visible spectrum of light.
• Prove the importance of good lighting to improve people's health (flickering control, UGR, photobiological safety, ...).
All this, controlled from the NormaLink control platform that makes it possible to play with lighting and emergency lighting in a dynamic, global and intuitive way. More than 2,500 luminaires and self contained emergency lights, in addition to central battery systems with step lights, sensors, buttons, occupancy detectors… all centralized in NormaLink system, with multi-device and multi-user control. There is no better way to show the power and toughness of NormaLink than with a real site of this size, with so many variants and such a remarkable level of interaction.
In addition, this building also has an auditorium with capacity for 60 people where it is possible to receive training on lighting theory, projects development, home automation, regulations...
All in all, a unique space that NORMAGRUP offers to customers, installers, engineers, architects...